Carolann Clynes

Broker | Sales Associate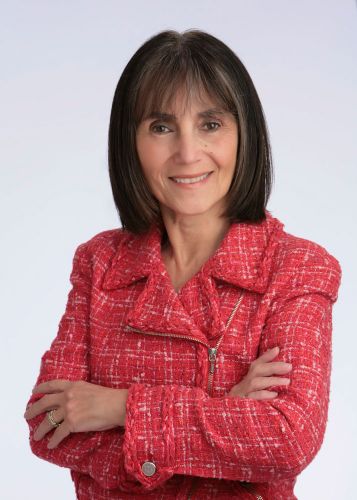 With over 25 years experience in real estate, Carolann elicits trust from both her clients & colleagues. As a strong negotiator, she is well known in the industry for her ethics & ease of style. A marketing specialist for many years, she has listed hundreds of properties which sold as a result of multiple bids.
Member Christie's International Real Estate Masters Circle, which includes an elite group of the top performing luxury real estate specialists from across the global network, based on the agent's local success, professional passion and expertise
Named by NJ Monthly as a Five Star Real Estate Agent for overall client satisfaction, 2011, 2013 - 2023
Featured in Top Agent Magazine, a national publication, in the January 2016 issue
NJ Association of Realtors Circle of Excellence level Gold 2016
Member President's Council, an honor reserved for the top 50 sales associates in the company of 3500, 2017
Past member President's Council, 2001-2002; 2008-2010; 2014-2016 
Ranked 26th in total company sales production, Coldwell Banker Residential Brokerage, 2015; 28th in 2016 
Over the years, ranked #1 agent in the Summit Office
Realtor Emeritus, National Association of Realtors since 2012
Lifetime member NJ Association of Realtors Distinguished Sales Club 
Carolann holds the prestigious Certified Real Estate Brokerage Manager (CRB) designation
National Residential Appraisers Institute certified appraiser 
A former branch office Vice President and Director of Premier Properties & New Construction
Member Who's Who of American Women since 2002 
Carolann firmly believes in giving back to the community where she lives and works and for years has served on the boards of many civic & charitable organizations. She was confirmed in 2002 by the New Jersey State Senate to a position on the New Jersey Historic Trust, a post to which she was nominated by Governor James E. McGreevey. She served as Chair of the Trust from 2006 to 2008 and was re-nominated to a second term by Governor Jon S. Corzine.
Specialties
~ Carolann specializes in Luxury Properties, marketing Trust & Estate properties and Condos/ Co-ops

Client Testimonials
Carolann is thorough in what she does, and a person of her word. very easy to work with. She seemed to get the job done regardless of obstacles and had a good relationship with both attorneys.
- vmmasonry
Excellent knowledge of local market opportunities and pricing. Quickly responds to inquiries and is resourceful in locating professionals to help resolve any issues. During a lengthy escrow requirement stuck with me and the project yo get the requirement resolved despite months of waiting for the contractor. Would recommend ....
- spdelarge
We worked with Carolann for an extended period of time due to market conditions. In this overall challenging environment, we were very fortunate to have such a professional on our side when we were selling and also when we were buying. Carolann guided us through every step of the way with her experience and elegance.
- Louisa Li
Moving from Europe to Summit, NJ should have been extremely stressful, but CAROLANN CLYNES provided all of the help we needed - from finding the perfect neighborhood to locating a great house. Her professionalism and industry prowess made all of the difference in our search.
- Constance Guindo / The Guindo Family
Carolann managed to find a great buyer with great speed for an older house with less promising prospects. She had a team of great people to assist me with the clean-out of furniture and portable property. The sale went seamlessly. I highly recommend this realtor.
- metalmaker0
The Quintessential Full-Service Real Estate Agent
I have worked with Carolann Clynes on both the buy and sale side for a few residential properties. Carolann provides 5-star service on every aspect of your real estate transaction -- from the initial discussion of the property to when the property changes hands … and beyond if needed, as well.
- rachelrodino
Selling in this market is a real challenge. Carolann is a go-getter that goes above and beyond to ensure her clients get the best deal. We had a particularly challenging transaction and if it had not been for Carolann, it never would have happened. I have seen her in action for many years on many deals. She is an A+.
- Michael & Joanne Vernotico
It is no wonder why I hold you in such high regard. YOU ARE THE BEST!
- Judy Maloney
We felt Carolann was the consummate professional. She patiently explained the process in terms we could understand. At each decision level she explained our choices and what benefits or failings each choice would bring. Her community contacts helped us fix & prepare our home for sale in record time.

- Thomas and Karen Devine
We could not have asked for a better agent than Carolann Clynes. She is extremely knowledgeable, particularly about the area we were looking in, professional, always diligently protected our interests, patient, and never pushy or overbearing. She is very personable and her warm personality made it a delight to work with her.
- Dan Thorn-Leeson
We felt Carolann was the consummate professional. I cannot adequately explain how happy I was with her service. She is without a doubt the most educated, knowledgeable and professional real estate agent I have ever dealt with and this is my third home!
- Thomas and Karen Devine
55 Dale Drive, Summit New Jersey
Congratulations on your score of 69 out of a possible 70 points on our Buyer/Seller Survey
- Jeff Fellers, Vice President, Coldwell Banker Summit Office
...the deal actually closed, you are remarkable. I can see why you are so successful. No matter what was thrown at you there was a great response. Thank you for all your skill and effort.
- Paul Allen
Carolann was professional and sensitive to my needs to sell my mother's house after my mom passed away. Carolann has expert knowledge and a professional network to help with every step of the way...... I highly recommend Carolann to anyone buying or selling a home.
- Valerie Leone
We want to heartily thank you for your assistance and help through this transaction. As you know, I was quite skeptical at the beginning because of the overall market conditions. I have to give full credit to you for making this possible.
- Sandro LaRosa
125 Blackburn Road, Summit New Jersey
Fast, speed, moving, angling...results. Effort is for 12 year olds. You deliver results. That's the difference. That's what you're about Carolann. Love it.
- Mark Gall
Dear Carolann,
Thank you for the countless things you did to help ensure the sale of my Aunt's home. I have great respect and appreciation for all you do and how you do it. You are a gift to me and I treasure your friendship. Enjoy this gift and have fun.
- Judy Maloney
As an attorney representing executors and families in the settlement of estates, and, occasionally, as the executor himself, I am pleased to recommend Carolann Clynes with the highest praise......
- Joseph E. Imbriaco, Esq.
Cooper, Rose & English, LLP,
...Carolann is fabulous. I told her she was my Realtor for life. Carolann: you have been wonderful. You are my realtor for life and I will recommend you to the world.
- Sandra Sauls
With more than 30 years of sales experience in real estate, I was confident that my real estate transaction would go smoothly when I decided to choose Carolann Clynes as my realtor. As a long-time resident of Summit, New Jersey, she has in-depth knowledge of the town and the lifestyle it has to offer.....
- glewis7795
Carolann Clynes did a tremendous job supporting us through a very difficult closing process. She also foresaw potential issues throughout the process and took preventative action early. It was comforting to know she was on top of issues.
- Joseph Musumeci
You were chosen to be on the Summit Place team because of your track-record for success and prior New Homes experience. You lived up to the task and have been a vital member of the sales team. It was a pleasure to work with you again. Thank you for all you did.
- David Schoner, Director of Coldwell Banker New Homes Division
As an attorney representing executors and families in the settlement of estates... I am pleased to recommend Carolann Clynes with the highest praise. Her judgement and experience in advising executors as to the marketing of real property held in an estate and in formulating and implementing strategies is invaluable.
- Joseph E. Imbriaco, Esq.
In the constellation overlooking my father's world, you have been one of the brightest stars; thank you for your help and friendship. I could not have made it without you.
- Rich Little
Thank you for your friendship, support and encouragement over the many long months of my transition. I hope that our friendship will continue beyond the recent real estate transactions.
- Adele Vespa, Corporate Counsel to Coldwell Banker Residential Brokerage
I will always be grateful to you for facilitating that blessing in our lives. I am keenly aware of how hard you worked on my behalf and I am very thankful for your efforts.
- Leslie Tunstall
…pricing strategy was excellent.
- Jean and Leighton Andersen
81 Mountain Avenue, Summit New Jersey